With spring here, our senses are tuned to all the bright colors in nature – spring green of new leaves, the rich purples of blooming irises, the flashy pinks, oranges and yellows of blooming wildflowers.  Just because we humans have to spend so much time inside working, doesn't mean that we can't bring some of the outside inside. One of our vendors, Community (by Jasper), has some pretty exciting colorful office chairs in their lines and I'd like to spotlight them here today. If you'd like to see our Pinterest board with more colorful office chairs, click here.
The Wink Chair by Community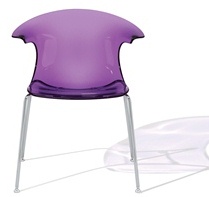 The Wink chair by Community is the Interior Design Magazine 2011 best of the year winner.  It is a ravishing new design available in a variety of colors. The creative use of materials from wood to solid to translucent chairs provide a modern profile that will fit any office decor. My favorite might be the nature-animal wood palette shown here. What's not to like?
The Wink Chair by Community
Low-density stacking chairs
One-piece shell
Chrome-plated steel frame
Multiple options:

5 wood options
5 solid colors
3 translucent colors
The Milk Chair by Community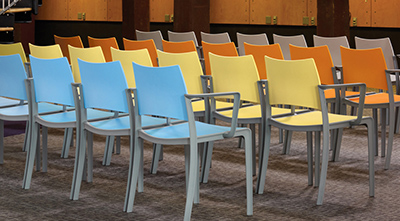 Another brighten-up-the-day kind of colorful chair – The Milk Stacking Chair, also by Community. Fresh, fun, functional.  Designed to work anywhere you want.
Lightweight
Versatile
Stackable
Affordable
Multiple options:

2 frame colors
5 seat/back colors

With or without arms
Can order with upholstered seats
The Luci Chair by Community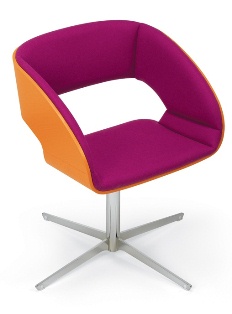 The Luci Chair by Community is a thing to behold!  But don't worry, if these bright colors are too much for you, it comes in a variety of other colors, both bold and subdued. Available options include:
Trumpet or 4-prong base
2-piece multi-layer shell
Round or soft-square top shapes
Multiple options:

7 wood finishes
15 color finishes
Duratex low-emission top coat