Height adjustable desks and tables ae designed to provide the benefit of standing at your desk. The human body is best served by a combination of sitting and standing. Studies show that sitting all day can contribute to diabetes, heart disease and early death (no kidding!).  Standing all day comes with its own problems, like varicose veins.  Studies show that a combination of sitting, standing – most importantly moving – is the healthiest option.
Many manufacturers are manufacturing Height-Adjustable or  Sit-Stand Tables and Desks to help people in today's workforce stay healthy.
One example is ESI's new beneFIT family of height adjustable bases which help to encourage movement in the workplace. There are four models which fit into virtually any budget; Crank, Pneumatic, Value Electric and Premium Electric.
Features: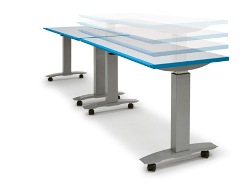 Concealed crossbars provide exceptional knee clearance and room for mobile pedestals.
All bases include adjustable glides for precise leveling.
Bases available to fit work surfaces 36″ – 84″ in length and 24″ – 30″ in depth.
Other height adjustable tables come in different styles and configurations, like these manufactured by Surface Works, some of which won Best of Neocon People's Choice Award in 2012.  These sit-stand benching systems, curved work benches, dog-bone office configurations and tables provide a plethora of options to help support the human body's ergonomic needs.

Easy adjustment is the key to liking your height adjustable table or desk, and different manufacturers have different ways to make sit-stand tables adjust effortlessly. Humanscale's Float Tables are one such solution.
With a unique counterbalance mechanism and weight indicator, Float enables easy, one-hand counterbalance weight adjustment, and near-effortless height adjustment for ergonomic sit-stand usage.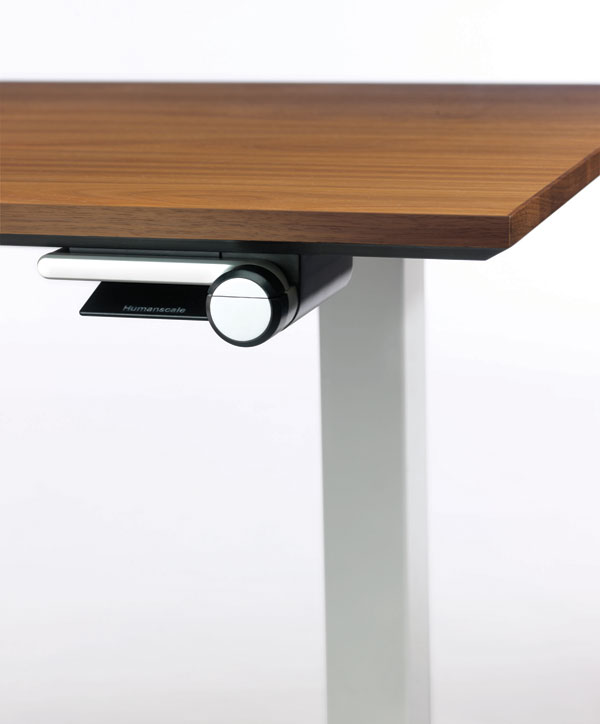 Float very neatly "floats" into position when its release is engaged—for weightless adjustment without force.
Safety measures prevent the possibility of injury associated with incorrect counterbalance.
A form flowing from a function, Float's elegant, architectural lines belie its exceptionally sophisticated functionality while eliminating the need for an extra support beam. Float's understated simple form—along with white, silver or black finish options—discreetly complements any work environment.