Trends in office furniture styles and layout have changed radically in the last ten years. Cubicles with high walls that gave employees quiet and privacy have gone out the window in favor of the open plan office which encourages collaboration between employees. There is currently a backlash to this trend, however, from people in the workplace who are dissatisfied with the lack of "speech privacy" and a drop in productivity due to the open office noise levels. Modular offices with doors can offer an affordable solution.
A New York Times article published in May of 2012 reprinted this quote: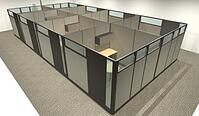 "In general, people do not like the acoustics in open offices," said John Goins, the leader of the survey conducted by Berkeley's Center for the Built Environment. "The noisemakers aren't so bothered by the lack of privacy, but most people are not happy, and designers are finally starting to pay attention to the problem."
The Times article went on to state that many people go off to the bathroom to have the private conversations they feel they cannot have in their open plan office.
One solution to the problem is to install a sound masking system, like those available from Office Furniture NOW! Another solution is to install modular offices with doors, also known as full privacy cubicles, for those employees who need acoustical privacy to perform their job or who would benefit from the productivity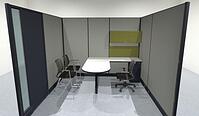 advantages of a quiet place to work.
ADVANTAGES OF MODULAR OFFICES WITH WALLS
Full Privacy Cubicles are Cost-Effective: Modular workstations provide several options, including offices with doors can be installed at a fraction of the cost of finishing out a traditional private office.
Full Privacy Cubicles are Flexible: If you need up reconfigure your office, it's easy to alter the footprint of modular offices with doors.  You can easily make an office smaller or larger; alter the shape of the office; or add windows or doors to a full privacy cubicle.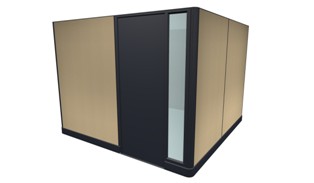 Full Privacy Cubicles come in Many Options: You can choose fabrics, finishes, storage accessories, paper management tools to suit your needs and tastes.  They can be standardized for a whole company or customized on a cubicle-by-cubicle basis.
Choose from New, Refurbished or Pre-Owned Modular Offices with Doors: You can set your own price point through any combination of these options:.
New Modular Offices with Doors
Generally, the most expensive option, buying new cubicles gives you the greatest number of choices with regard to color, style, and functionality. They also come without wear and tear. It is easy to purchase the matching product in the future. Unfortunately, it often has the longest delivery time.
Refurbished Modular Offices with Doors
Provides cost savings over comparable new cubicles, and is often available in quicker delivery times. Refurbished full privacy cubicles will give the buyer several options of new fabrics and finishes. Product offerings usually accommodate the most common functionality requirements.
Pre-Owned Modular Offices with Doors
With pre-owned cubicles, you can gain significant cost savings over comparable new and refurbished cubicle choices. Your product choices are more limited because you must choose from available inventories that can involve compromises in terms of color and other features. Provides the quickest delivery because these solutions are usually on-hand at Office Furniture NOW!
Newsed Modular Offices with Doors
Combining the best benefits of both new and used furniture, this option typically costs less than refurbished cubicles but more than used cubicles. By purchasing new panels along with used internal components, such as worksurfaces and drawers, it can look like you bought all new furniture, but you know you saved some serious money.