In a sea of open office design, personal workspace has been the most affected commodity. Amidst all the innovative furniture design that supports employee health and wellness goals, there was one trend that significantly stands out among the rest: the return to privacy. As companies continue to monitor big shifts in office design that foster taking better care of their employees through better office design, the adaptable, dependable cubicle is clearly making a comeback with some surprising adaptations.
The trend toward open plan office design has been steadily decreasing the amount of privacy and personal workspace for employees over the past few years. Case in point: Gensler's 2013 study showed that from 2010 to 2012, the personal space of an individual dropped from 225 to 176 square feet, and it's predicted to drop to 100 square feet or even less in 2017. In already-reduced work areas, 42% of employees are creating makeshift solutions to block out distractions from their co-workers.
Progressive companies are now realizing that there must be an equilibrium between the return to privacy and personal workspace without sacrificing the creative collaboration encouraged through open plan office design. Flexible office design solutions should incorporate work zones designed to support a range of tasks: focused work, meetings, presentations, collaborations, brainstorming, socializing, and quiet study or professional development.
Modular furnishings like contemporary low walled cubicles and demounted glass rooms can be integrated into an open office concept without much design disruption and provide tailored individualized work zone solutions to alleviate the lack of privacy.
The Rise of Open-Office Benching Systems/Workstations
The resurgence in commercial loft spaces and repurposed property design has created adaptive use spaces that are more open by nature. Driven by the startup culture, these adaptable spaces have sacrificed fixed, private offices for more open dialog. Leasing is often more affordable in the startup culture, making the flexibility of open plan design the preferred option of collaborators and property owners alike. These spaces can adapt and change rapidly which allows for fluctuations in growth and adaptation to any configuration.
The costs of building and outfitting private offices are often out of scope. If you're a company that plans on growing, you could potentially be hindering yourself if you permanently reduce your flexible square footage with fixed offices. Open collaboration just does not work if four people are squeezed into what was once a tiny private office.
Benching systems and modular workstations exist because they fit the most people into a single open space for the lowest cost. Removing panels from cubicles lends you a few more square feet to play with and therefore, more team members to fit into the floor plan. The positive advantage here is faster collaboration. When you literally tear down the walls, you get increased conversation, real-time collaboration and idea sharing among your employees. This creates a dynamic work culture that grows the community within the office. For task-based group work, it makes a lot of sense. For the rest of your workday, maybe not so much.
Increasing Privacy
If you have or have recently invested in modular workstations and benching systems for your open office, no need to worry. You can create more privacy with screens, removable acoustic panels or demountable glass walls. Adaptable wall systems NxtWall Systems and Clarus Glassboards can provide some flexible mobile alternative screening solutions for your open office plan. Demountable perimeter glass wall systems are a viable option to add privacy spaces in open plan offices. They are fully adaptable to your needs and if you lease your space these are perfect because you can take them with you when you leave.
Improving Focus
Finding creative ways to visually and physically break up your office space is the challenge with open plan office design. Companies are extending their brand aesthetic while increasing privacy by incorporating eye-catching partitions, partial walls, room dividers, and imprinted glass walls. For example, nonprofit Echoing Green hired Taylor and Miller to divide up their office layout in a way that would grow and move with the organization. The architect and design firm fashioned hundreds of lightweight plywood boxes and wood slats in a variety of rectilinear shapes that created movable walls, partitions, even seating, and stairs. This is an opportunity to get creative with not only privacy but incorporated storage solutions.
Encouraging Personalization
Studies have shown that 22% of office workers want more personalized workspace and that number is increasing. One trend spotted at NeoCon this year was the introduction of more home styled spaces: comfortable sofas, chairs, cubbies and even rooms within rooms that feel like one's own private space.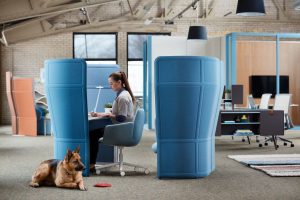 Going one step further than office partitions are acoustic pods. Office pods are a modular furniture solution to create a room within a room. Several manufacturers have developed versions of these miniature rooms that can be customized by the employee and the employer with agreed-upon amenities for maximum productivity and comfort: sit-stand desks, enhanced technology, and storage-seating combos or all-in-one storage solutions.
Creating a balance of environments within your open office plan for private conversations and concentrated work can increase morale and mindful collaboration. Working with a designer to create adaptable spaces throughout your open office can yield surprising results and produce a cozy and varied workspace the entire company can enjoy. The caveat: group conversations, personal phone calls, and other noisy habits will disappear into productivity and seamless collaboration.
---

MEET JANICE COONS: Janice assists clients seeking furniture for offices, healthcare, and higher education. Armed with her extensive knowledge of industry trends, she can help you find the right balance of privacy in your open office design! Connect with her via email janice@officefurniturenow.com or by calling 888-910-3769 x113. For more inspiration visit us on Facebook, Pinterest, and Twitter!