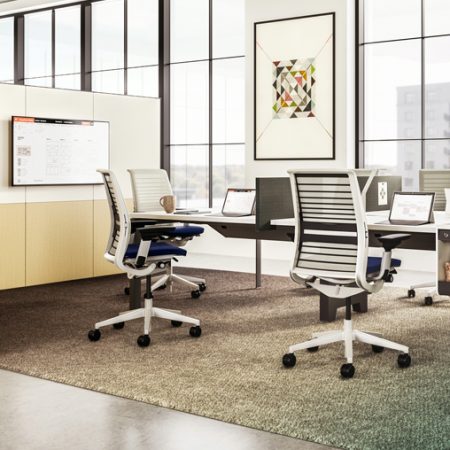 Resimercial Open Plan Workspaces
Resimercial workspaces tend to be more purposeful with their placement within the open plan office design. They often multitask, so
benching
is a smart solution, because it can transform from personal to conference workspace effortlessly. Open plan office design becomes more resimercial with built-in wood storage, concealed conferencing, and carpeted areas. There is a smart collaboration between the proximity, geometry, and color story here.
TIP: Make a statement with modern desking solutions with ergonomic seating styles and colors, and urban artwork that reflects your brand aesthetic. Wifi connectivity for digital information sharing is essential for open plan resimercial workspaces. Carpet that defines the desk area can make a bold design statement.
---
CORPORATE  |  SUPPORT  |  TRAINING  |  TECH  |  HOSPITALITY  |  HEALTHCARE
Contact Us
Office Furniture NOW!
SHOWROOM:




4201 Supply Court, Suite 100




Austin

,

Texas

78744
Showroom Hours:
M-TH 8am-6pm, F 8am-5pm Central Time
Austin:
512-448-3769
Toll Free:
888-910-3769
CONTACT US
Directions/Map to Our Showroom