Given the number of hours most of us spend in office chairs in front of a computer, the ergonomics of a good task chair is an investment in both the health of our backs and in our personal comfort. One office chair that we always try to keep in stock at Office Furniture NOW! is the Steelcase Leap Chair.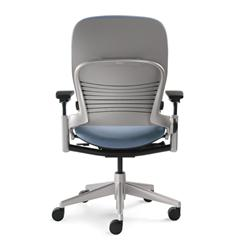 Because we are not a Steelcase dealer, all our Leap Chairs are pre-owned or refurbished. When we get a call because a company is selling their office furniture, we always show up to bid on Steelcase Leap Chairs. And here's why…
They have six ergonomic features that contribute to improved well-being and productivity:
1. The Leap chair has a "Live Back". The back of the chair has little slats (look at the picture) which can change the shape of the chair's back to support your entire spine.
2. Upper and Lower back controls which, by the way, adjust while you are seated. The upper controls let you adjust the amount of "push back" desired while reclining, regardless of your body size. The lower back control lets your lower back maintain its natural curve by setting a constant amount of firmness.
3. The arms telescope, pivot, and adjust up and down for the optimum support of your wrists, forearms, shoulders and neck.
4. The seat glides forward as you recline so you can stay oriented to your work, allowing more varied postures – which is healthy for your spine.
5. The angle of the front seat edge is changeable, enabling you to ease the pressure on your thighs and widen the angle between your legs and torso without feeling like you're sliding out of your chair.
6. Adjustable seat depth accommodates different body shapes for long-term comfort.
Steelcase's claim that sitting in the Leap chair enables IRS workers to collect 17.8% more taxes than those sitting in a different chair seems a little(!) farfetched but its claim that you'll be more comfortable sitting in a Leap chair all day than sitting in most other chairs seems convincing.
At the time of this writing, we have over 50 Leap chairs in stock. They last a really long time and are an extremely heavy-duty chair; so buying them pre-owned or refurbished will buy you years of body comfort. You can buy them at Office Furniture NOW! refurbished with brand new fabric for around $445 or "as is" for $395. Either way, it beats the new price of over $1200.