Naturally, your desk will be the central focus of your office. You'll want to choose executive and office desks carefully as these are the areas where you will perform most of your work. Making an educated selection based on the way you work and the amount of time you spend at your desk requires some research and planning. This is an important decision, since executive desks are usually the office furniture pieces that you select first, and then other pieces f0ll0w the style and tone you select.
Our design professionals on can help you choose your new, refurbished or pre-owned office desk and accompanying office furniture with respect to style, usage pattern and ergonomics. We are experts at configuring the right mix of new and pre-owned office furniture to maximize your price point. We utilize a tiered pricing structure  for assessing your budget, so that we can make informed choices for your need. Finding pieces that work together, accommodate your workstyle and best fit the space all conspire to maximize your price point.
While some aspects of choosing an executive desk are obvious, others are less intuitive. For instance, do you collaborate a lot at work? A new study done by Herman Miller found that 70% of collaboration happens at people's office desks. This means your office desk is also a meeting space, even if you may not be predisposed to think of it that way.
Our office furniture experts select less than 5% of the pre-owned furniture that we have an option to buy. This means that we have a high volume to choose from. It also means that we have years of experience in the industry seeing what furniture office spaces are using, what they are satisfied with, and what is not working. Our inventory is constantly evolving and being updated. Our staff is knowledgeable on many levels to help you make informed choices
When you search our site or speak with one of our furniture consultants, you will see just a selction of the new, refurbished and pre-owned office furniture we have on hand.  If you are seeking specific pieces let us know and we will do our best to locate them. We can help you address many issues upfront whether you are furnishing a new office furniture plan or configuring an existing space, so you won't have to worry about them later.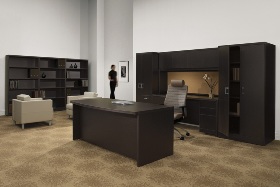 KEY CRITERIA FOR CHOOSING EXECUTIVE DESKS
Some basic things you'll need to consider while choosing your executive desks:

The Way You Work: The science of ergonomics tells us that to choose the right executive desks, it is best to think about how you work.
Do you work alone or with other people?
How much privacy do you need?
Do you need a workplace that will help you collaborate with others?
The office furniture world has evolved to provide a myriad of options to match your privacy and collaboration needs with an appropriate physical space. The line between desks and cubicles/workstations has become blurred. The integrative office design of today leaves you with a wide range of desking options and set-ups.
Surface Area and Shape: When choosing your executive desk's shape, you need to decide what your optimal amount of work surface space will be. Options for desk shapes include, but are not limited to, the following:
Rectangular desk
U-desk
L-desk
P-desk
An executive desk set (desk with credenza)
Two adjoining laminate and metal L-desks providing a place to work alone or collaborate and is often a great solution for people who need to work together at intervals and still have some privacy. A modular file cabinet with storage on top completes the look and provides nearby storage solutions. A wood veneer P-desk provides a lot of workspace as well as a place for visitors to pull up and work with you. A credenza provides a lot of storage above and file drawers below.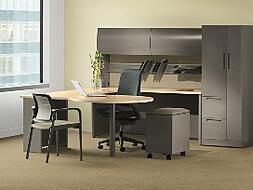 Collaboration Needs:  Do you work with others a lot at your desk? "L" and "P" style desks are a great way to offer others a sitting area that has a flat surface so that they feel more like they are collaborating with you and not sitting in the principal's office.
Office Layout: What is the size, dimension and usage pattern in your office? An "L" style desk can wrap around a corner and give you plenty of workspace while leaving the rest of the room open for another desk, office lounge furniture or a small conference table.

Style and Material:  This is critical because the style you choose for your office furniture pieces reflects your corporate image in the workspace. For instance, if you work at a bank or a law firm and wish to convey stability and tradition, you might go with something in hardwood or stone that conveys permanence. If you work in a more high-tech setting, you might opt for something in glass or modern materials. We have office furniture covering the entire range of styles. We rate them according to three categories: Traditional, Transitional (Traditional forms but with clean lines) and Contemporary.
PRINCIPAL MATERIALS PROS & CONS:
| | | |
| --- | --- | --- |
| | Pros | Cons |
| Laminate | Stain resistant, Cost-effective | Often a more casual look |
| Wood Veneer | Classic, Cost-effective | Can stain, Can wear through |
| Solid Wood | Classic, Elegant | Can stain, Requires polishing |
| Metal | Modern, Durable | Can dent, Not as warm looking |
| Glass | Modern, Elegant | Can show fingerprints, Can chip |
Storage Needs: If you work with a lot of materials or need to perform a wide variety of tasks at your workstation, we have desks that can handle the volume. Choosing a desk that offers storage is a great way to maximize your work area and keep items within easy reach. Many "L" and "P" shaped desks have optional overhead bins, while many of our modern desks have areas where a matching bin or filing cabinet may be added.
Budget:  We seek viable ways to maximize your budget. All of our furniture is high quality and professional. We are equipped to help you at every stage of growth. If you are just starting out, we can help you to select attractive laminate or metal furnishings, then as you grow, you might want to move up a level and opt for a pre-owned selection from Herman Miller or Haworth. We can refurbish a desk with a marred surface and make it look like new. This allows us to offer you products with a high value. New, refurbished or pre-owned, our furniture is of high quality and will be appropriate to any professional setting.
Time Frame to Delivery: Your time frame might dictate what choices are available to you. Here are typical delivery times for various desking options:
Special Order New Desks:  Depending on the manufacturer selected, delivery times range from 2-12 weeks.
New Desks: Depending on the manufacturer selected, delivery times range from 1-12 weeks.
Pre-Owned Desks:  If you pick from our extensive inventory, your desk can be delivered within a week.
Special Needs: There is quite a bit more that we can help you with that isn't listed here. For instance, if you prefer to stand at work, or alternate sitting and standing, we have Sit/Stand desks available. We can also source or select desks made from exotic woods. Many of our desks have matching bookcases, modules and bins so don't hesitate to ask!