OFInsider
WELCOME TO OUR NEWS BOARD! Thanks for stopping by! We will be sharing current information and product updates on this forum to keep you informed and included in our endeavors.

OUR BLOG MADE FEEDSPOT'S TOP 50! We are so excited to announce that the Office Furniture NOW! blog has been selected by Feedspot panelists as one of the Top 50 Office Furniture Blogs on the web!!
CONGRATULATIONS to our very own Chelly Bell for her Austin Chamber Ambassador Spotlight!
WE  MOVED! Our new 35K square foot office space in the Burleson Commerce Park complex is completed. We are now located at 4201 Supply Court at Burleson Road, Austin, TX 78744. Our new showroom hours are 8am-6pm. It has been an exciting year of change, all culminating with this move. We are very excited to welcome staff and visitors the new office space!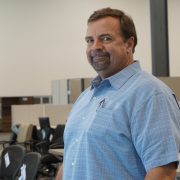 NEW OWNER! Larry Guyette, President of Office Furniture NOW! since November 2014, became the new owner in April 2016. Larry brings with him a visionary approach for our growth, including the rebranding and marketing of Office Furniture NOW! The first glimpse of this was our new website, launched in the summer of 2016. Cleaner more readable content, more concise navigation and the opportunity to view a more updated inventory online drove this change. The new format provides a more user-friendly environment for viewing the wonderful products sold at Office Furniture NOW!
MORE TRUCKS! THE NEW TRUCKS HAVE ARRIVED! We'll be out and about with our new look to better serve our customers in Austin and the surrounding areas!
Featured Products We Carry
This is only a partial sample to get your ideas flowing. As always, make contact with us to speak to an advisor.