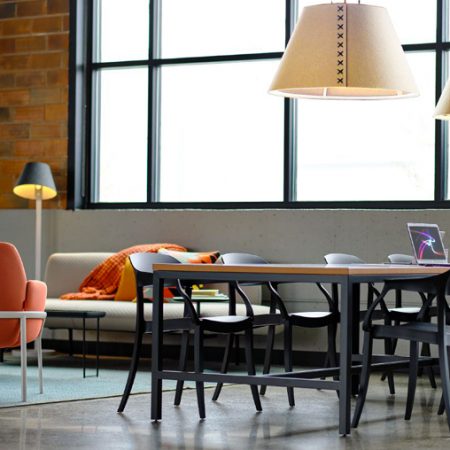 Resimercial Breakaway Workspace
Resimericial breakaway workspaces are designed to multi-task. They can turn a breakroom into a multitasking destination area with pizazz and functionality. Coworking spaces and the coffee bar culture have transformed breakrooms into more than just a microwave and some chairs. They have become a destination zone to chill, meet, and reconnect.
Resimercial workspaces
take breakaways to another level with cafe charm, boutique furnishings, and flexible tables borrowed from benching workstations. Conferencing
huddles
never felt so much at home. Rethink break time with a cozy transformational space that shifts the narrative from formal to casual conversation vibe.
TIP: Focus on multilevel seating styles and colors, bold artwork, and pay attention to how location and light can transform resimercial breakaway spaces. They no longer need to be hidden from view. Provide wifi connectivity for digital information sharing to guests and staff.
---
CORPORATE  |  SUPPORT  |  TRAINING  |  TECH  |  HOSPITALITY  |  HEALTHCARE
Contact Us
Office Furniture NOW!
SHOWROOM:




4201 Supply Court, Suite 100




Austin

,

Texas

78744
Showroom Hours:
M-TH 8am-6pm, F 8am-5pm Central Time
Austin:
512-448-3769
Toll Free:
888-910-3769
CONTACT US
Directions/Map to Our Showroom