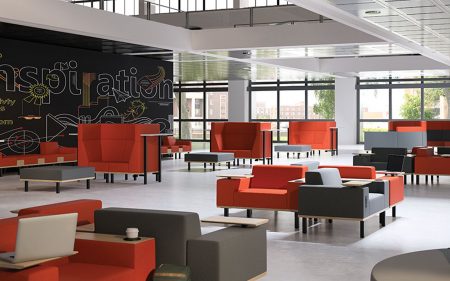 Healthcare Lounge Workspaces
In the high stakes healthcare industry, putting some time and effort into creating a wonderful lounge area for your staff to enjoy goes a long way. Healthcare workspaces are often multi-campus environments, providing spaces where people can mingle, grab a coffee, and reconnect while moving between these environments is a great morale booster. It's also a great opportunity for color and lounge seating as well as impromptu meetings.
TIP: This is a great place for a coffee bar! Position seating in groups to facilitate an impromptu meet and greet. Provide wifi connectivity for digital information sharing, access, and access to charging stations.
---
CORPORATE  |  SUPPORT  |  TRAINING  |  TECH  |  HOSPITALITY  |  RESIMERCIAL
Directions/Map to Our Showroom